Posted by M Mueller on Nov 16th 2016
Make sure the residents in your nursing home are fully protected from an accidental fire by taking extra precautions and using fire retardant coatings and sprays throughout the building. FRC Texas is a company that provides the necessary tools to keep residents safe and give you more time to evacuate the premises should an unfortunate disaster occur.
Our products are designed to create a barrier against extreme heat sources, such as flames, and prevent the treated surface from igniting or combusting.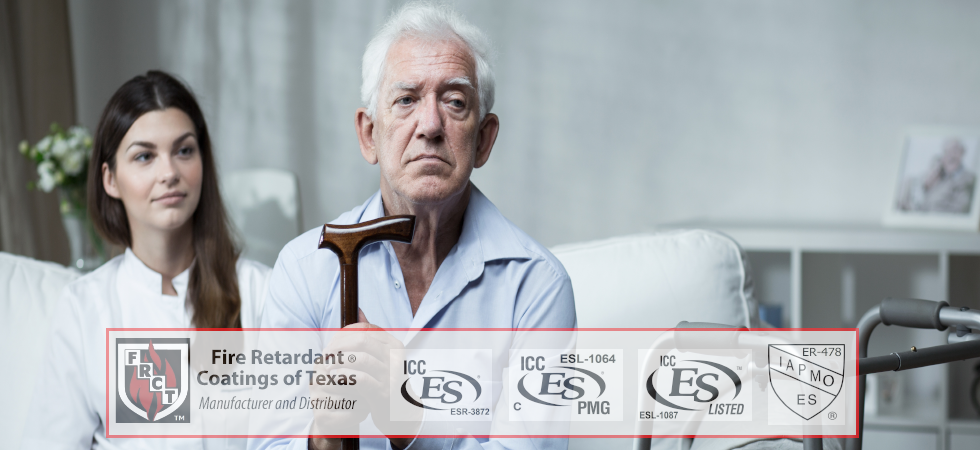 How Our Products Help Your Facility
FRC Texas has developed a full line of flame retardant coatings and sprays to properly ensure all areas of your nursing home will be well equipped to deal with a fire, should it be needed.
Our Fabric Guard and Paper Guard are sprays that protect your interior materials. Our Fabric Guard can be used on drapes, curtains, wall coverings, paintings, and similar products. Fabric Guard is designed to be used on natural fibers. Paper Guard can be used on any paper product that can absorb a liquid base. Provide extra protection by spraying lamp shades, cardboard, and posters that may be in bedrooms or waiting areas!
Looking for overall security from flame spread? Look to one of these three products which are coatings that provide a sound flame barrier to the treated substance:
Paint Guard- a Class A thermal barrier coating that can be used on a variety of materials including drywall, lumber, plywood, and hardwood flooring
Fabric Guard- Fire Retardant Spray for Curtains, Drapes, Banners, Flags, Wall Coverings, Paintings, Tapestries and similar products.
Paper Guard- is a water based fire retardant coating that doesn't require any special tools or equipment to apply it, most glues and adhesives are compatible with FX Paper Guard and all of our other fire retardant products.
Plus, greenery in your nursing home can be protected with our Tree Guard spray year round!
Call today!
FRC Texas wants your nursing homes to be safe and secure for your residents and workers. Get your products today by calling us at 817-710-5233!